Waar oppervlakken te klein zijn om een last met een standaardoplossing te tillen, is een Air caster vehicle de oplossing.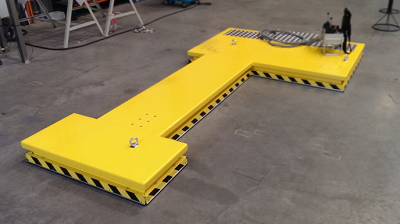 Met een Air caster of luchtkussen gaat de last letterlijk zwevend over de grond. Door deze technologie te combineren met een tractieaandrijving kunnen alle lasten in uw omgeving met hoge nauwkeurigheid worden verplaatst.
Gezien het hoge luchtverbruik, kan het voertuig worden uitgebreid met een interne slanghaspel of een ingebouwde compressor om zo extra flexibiliteit te creëren.