Door een combinatie van preventief onderhoud en inspecties verhogen we de betrouwbaarheid van uw machine. AVT Europe NV heeft vele jaren ervaring en kan zo als geen ander inschatten wat de noden zijn voor uw machine. Hierbij hanteren we de laatste trends qua onderhoud en service en zorgen zo voor een optimaal werkende machine of installatie.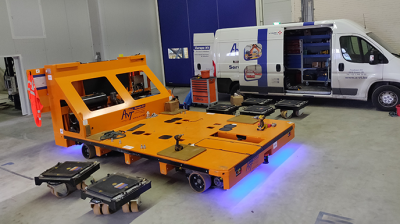 Na ieder onderhoud of inspectie ontvangt u een gedetailleerd servicerapport waarin mogelijke problemen worden verduidelijkt of specifiek advies wordt geboden omtrent verbeteringen. Zo kunnen we samen met u in overleg gaan over de gewenste acties en kunnen ongewenste stilstanden vermeden worden.
Bovendien kan AVT Europe NV ook predictief onderhoud toepassen op uw installaties. Zo is het mogelijk een gebruiksvriendelijk dashboard op te bouwen om uw machines continu op te volgen. Met de kritische data die we hierin verwerken kunnen we met behulp van machine learning vroegtijdige slijtage opmerken en hiervoor tijdig acties ondernemen.
AVT Europe NV levert naast onderhoud en inspecties aan bestaande machines, ook de service om reeds geleverde machines ter plaatse aan te passen aan de wensen of noden van de klant. Dit zowel in binnen- als buitenland. Dit wordt uitgevoerd door onze eigen mensen.
Voor meer informatie kan u steeds contact opnemen!