Veertien AGV's voor Audi Ingolstadt
Audi, de Duitse autofabrikant, heeft 14 AGV's (Automated Guided Vehicles) besteld bij AVT Europe NV. Deze AGV's zullen gebruikt worden in het nieuwe magazijn van Audi in Ingolstadt (Duitsland).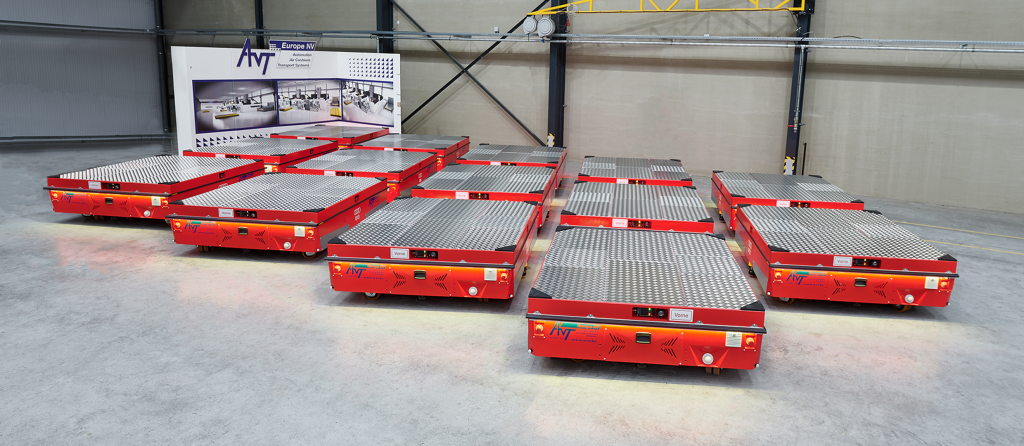 In het magazijn in Ingolstadt komen er elke dag ongeveer 1.500 pallets binnen en verlaten ongeveer 1.500 pallets het magazijn met vrachtwagens of treinen. Audi was op zoek naar een oplossing om deze pallets door het magazijn te verplaatsen met een minimum aan heftruckverkeer.
De AGV's kunnen 1 tot 4 pallets tegelijk vervoeren en afleveren in het magazijn met een oppervlakte van 40.000m² per verdieping. Als extra uitdaging zijn er 8 liften om de AGV's tussen de twee verdiepingen te brengen.
Ze zijn ontwikkeld om tot 3500kg te dragen en te transporteren aan een snelheid van 6 km/u. Er is een Lithium batterij aan boord die het mogelijk maakt om de batterij op te laden tijdens het oppikken van nieuwe pallets.
De AGV's kunnen ook worden gebruikt als een interne taxidienst om een pallet of onderdeel binnen de fabriek te vervoeren door ze op te roepen via een zelf ontwikkelde app of ze kunnen zelfs van tevoren worden gereserveerd voor een specifiek tijdslot.
Voor dit project moeten de AGV's perfect functioneren tussen vorkliften, mensen, branddeuren, liften enz. Veiligheid en navigatie zijn cruciaal!
Daarom zal de nieuwste lasernavigatie worden geïnstalleerd, zodat de AGV's in staat zijn om objecten uit hun omgeving te herkennen. Dit creëert een zeer flexibele opstelling die later kan worden aangepast via het voorziene traffic control systeem.