Aurubis
Robot voor automatische staalname op 500kg platen gerecycleerd koper.
Uitdaging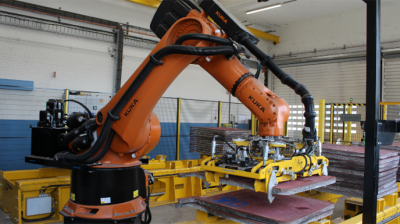 Inkomende loten koperen anodes en blisteranodes dienen geboord te worden om een staal te nemen, dit volgens een bepaald patroon en procedure. Het is van groot belang dat de stalen van de verschillende loten niet gemengd of gecontamineerd raken om een correcte analyse per lot of sublot te verkrijgen. De verzamelde stalen worden verder verwerkt in de fijnpreparatie alvorens deze naar het labo gestuurd worden. Dit proces werd volledig manueel en met verouderde tools uitgevoerd door operatoren.
Oplossing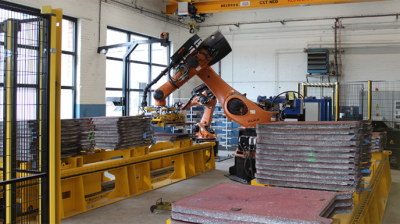 De operator zet met een vorklift een stapel anodes in de robotinstallatie. Door middel van een walkingbeam transportmiddel worden de stapels verplaatst tot aan de robot.
De robot met op maat gemaakte grijper neemt een anode plaat (500kg) en brengt deze tot boven een speciaal ontworpen boorunit. De spanen van het boorproces worden in een bakje opgevangen en dienen als staal. Een 2de robot beheert het rek met opvangbakjes voor de stalen en kan automatisch de boren in de boorunit wisselen.