Heavy load vehicles are custom-built vehicles that operate in difficult areas to move demanding loads. These vehicles are operated manually using a wireless remote control or semi-automatically under the guidance of an operator.
Heavy load vehicles are electrically operated. Each vehicle has an on-board battery with sufficient capacity to do the job. Our vehicles are equipped with a high-end energy management system. Combined with standby detection, this feature optimizes the vehicle's entire energy consumption.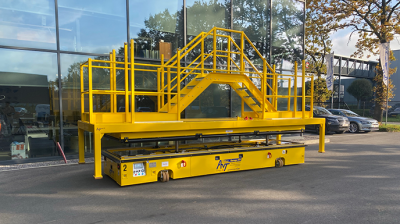 These vehicles can be used both indoors and outdoors. By applying an "OUTDOOR package" and full use of IP65 components, the vehicle is suitable for use in all weather conditions.
All our heavy load vehicles are "AGV READY" and can be upgraded to fully autonomous use at a later stage of your automation.